Facts about Amaury Guichon
| | |
| --- | --- |
| Date of Birth | March 15, 1991 |
| Age | 32 years old |
| Birthplace | France |
| Zodiac | Pisces |
| Nationality | French |
| Ethnicity | French and Swiss |
| Profession | Pastry Chef and Instagram star |
| Height | 5 feet and 10  inches |
| Relationship status | Married |
| Net worth | $5 million (More info Below) |
The creation of art can be done using any material. Amaury Guichon, a chef of exceptional talent, is the one who best fits this description. He uses pastries to make works of art—doesn't that sound amazing? His highly designed pastry masterpieces, which resemble works of art more than actual cuisine, have made him well-known. Because of the incredible pastry art he develops and posts on his Instagram, which has millions of followers, his work is well known on a global scale. He is the host of the well-liked Netflix program "School of Chocolate" due to his extraordinarily high level of skill. Now tell us more about Amaury Guichon, this incredible pastry chef.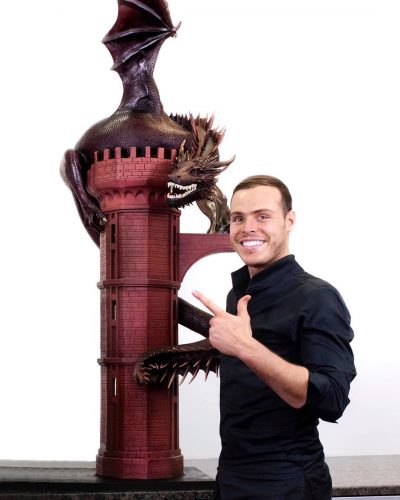 BIO AND WIKI
Amaury Guichon was born on March 15, 1991, in France. Ever since Amaury was a kid, he was passionate and interested in the delicate art of pastry. As he grew up, Amaury became an Instagram star who earned a lot of fame and attention for outstanding forms of pastry making videos which he uploads on his Instagram account.  At the time of writing this article, Amaury has already amassed more than 4.6 million on Instagram alone.
Amaury Guichon EARLY LIFE
Amaury was raised in the French department of Haute-Savoie. It is also a nearby region in Switzerland that speaks French. He was innovative and artistic from a young age. Meanwhile, he had little to no interest in academics and school, where he was unable to develop his talents. He quit school when he was 14 years old to find a place where he could use his imagination and skills. 

Amaury Guichon CAREER
Chef Amaury Guichon started his training in the kitchen at an early age. At the age of 14, he traveled to France in 2005 to begin employment in catering (BEP) at the Ecole Hoteliere Savoie Leman. There, he received training for over two years.
He did not, however, give up on his desire to learn more about the culinary arts. So, he returned to Switzerland to pursue pastry training. At Wolsberg College, he completed and excelled in two years of pastry (CAP) from 2007 to 2009. He won first place in the Apprentice Chocolate Showpiece Contest at this time.
After identifying his actual love, he decided to pursue a BTM in pastry at Lenotre in Paris in order to gain more understanding about it. His winning the gold prize for "Best Apprentice of France" won't come as a surprise.
He returned to Cannes in 2011 and assumed his first leadership position at the Lenotre boutique. Five apprentices were under his guidance while he gave classes for beginners. He was appointed executive chef of Hugo & Victor in Paris in 2012. After spending two years there, he began working in America for three years at the Jean Philippe Patisserie in Las Vegas.
In 2017, he struck out on his own once more, traveling the world to impart his considerable knowledge and Masterclasses at the top Culinary Academies. With millions of followers, he is currently the most popular pastry chef worldwide on social media. He never gave up and took chances to become a top pastry maker, which is why he has been so successful.
He now serves as the host of the well-liked Netflix television program School of Chocolate.
Amaury Guichon NET WORTH AND EARNING
Sponsorship: Given that Amaury has more than 4.6 million Instagram followers, brands pay a set sum for each post they publish. 
The average follower engagement rate on each of Amaury's most recent 15 posts is 7.76%. As a result, the range of his estimated average sponsorship fee is $3,504.75 to $5,841.25.
International Pastry Instructor: Due to his reputation as one of the top pastry chefs in the world, many people interested in the field are prepared to pay a high price to study under him. He routinely travels over the world to impart his enormous pastry-making experience. There is no doubting that he earns a sizable sum of money from his frequent lecturing trips. Not only that, but "The art of flavor" has a high sales volume and makes him a sizable sum of money. 
Amaury Guichon's net worth is thus assessed to be roughly $5 million after taking into account all of his revenue sources over the years, as mentioned above, and performing the necessary calculations.
Amaury Guichon's WIFE, AND RELATIONSHIP 
As a popular chef, it is obvious that people would want to know about his romantic life as well. Fortunately, his love life is just as good as his professional life is. At the moment, he is in a relationship with a beautiful woman named Fiona Bergson. Surprisingly, she is the camerawoman who captures the astounding masterpiece he creates. Not just that, she is the director of Pastry Academy situated in Las Vegas opened by Amaury. That shows how much they love and support each other. She is also a multi-talented person as she is a tattoo shop owner and freelance photographer. Amaury and Fiona married during the midst of the Covid-19 pandemic – in winter 2020.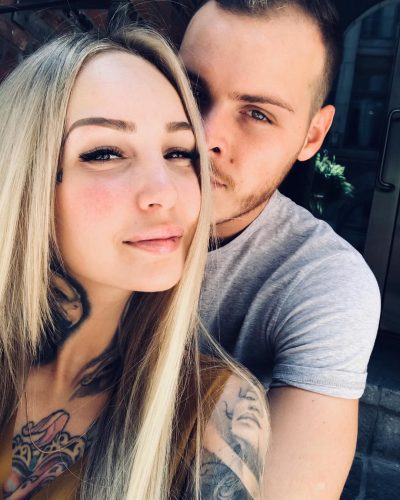 Saying that their connection is intended to continue forever is undoubtedly accurate. They have served as an example and a lesson for couples who frequently split up over the most little issues.
Amaury Guichon's HEIGHT, WEIGHT, AND BODY MEASUREMENTS
| | |
| --- | --- |
| Height | 5 feet and 10  inches |
| Weight | At the moment, the information about his weight remains unknown. |
| Hair | Dark Brown |
| Eyes | Hazel |
| Body Measurement | However, the detailed statistics showing his body measurements are not known. |
| Body Type | Average |

Amaury Guichon's FAMILY AND EDUCATION 
Father:      He has not stated the identification of his dad in any of his social media until now.
Mother:    He has not stated the identification of his mom in any of his social media until now.
Sibling:    He has not mentioned anything about his siblings either.
Education:    Amaury has extensive knowledge and expertise in his best. Firstly, he spent two years studying cooking in Thonon-Les-Bains, France. There it was where he found his passion, Pastry. To further learn about it, he took a two-year apprenticeship in Geneva, Switzerland followed by several internships. Surprisingly, his thirst to know more about it again led to enrolling in a two-year curriculum related to Advanced Pastry Skills. Now that is some resume for being a pastry chef.
RUMORS AND CONTROVERSY
Some of his haters try to pull him down with false things about him. However, he doesn't let that negativity impede his career. He manages it with positivity and composure. Moreover, he doesn't involve himself in any such circumstances that could create a  negative reputation for him.
 Amaury Guichon's SOCIAL MEDIA
| | | |
| --- | --- | --- |
| Platform | Followers (As of December 2021) | Link |
| Facebook | 7.7 million | Here |
| Twitter | Not created | Here |
| Instagram | 4.6 million | Here |
| YouTube | Not created | Here |
Also Read: Javiielo