Facts about Faouzia
| | |
| --- | --- |
| Date of Birth | July 5, 2000 |
| Age | 23 years old |
| Birthplace | Casablanca, Morocco |
| Zodiac | Cancer |
| Nationality | Moroccan |
| Ethnicity | Moroccan, Arabic, and French |
| Profession | Singer-songwriter and musician |
| Height | 5 feet and 7 inches |
| Real Name | Faouzia Ouihya |
| Net worth | $600k – $700k. (More info Below) |
Faouzia Ouihya, a talented singer from Winnipeg, Canada, was born in Morocco at the age of 19. Faouzia is a French, Arabic, and English native speaker who possesses extraordinary talent as a singer, composer, and multi-instrumentalist. Her lyrics, which advocate for female empowerment and overcoming adversity, are powerful and inspirational. She has been able to affect the souls of millions of people worldwide at such a young age. Her tracks have a strong cinematic pop vibe that combines with alternative and rhythmic components. Tell us more about Faouzia, the singing sensation.

BIO AND WIKI
On July 5, 2000, Faouzia was born in Casablanca, Morocco. She relocated to Notre Dame de Lourdes, Manitoba, with her family when she was five years old. They then made Carman, Manitoba, their home. Because of her fantastic melodies and vocal prowess at such a young age, she won numerous competitions and accolades that brought her a lot of attention. Her remarkable journey from YouTube to prominence is discussed below.
Faouzia Rise to Stardom
Faouzia won Song of the Year, the Audience Award, and the Grand Prix at the 2015 La Chicane Éléctrique at the age of fifteen. She began posting her original music and song covers to her YouTube page. She was discovered and instantly signed with Paradigm Talent Agency because to her incredible talent.
She came in second in the renowned Canadian competition known as Emerging Artist Mentorship the very next year. She was successful in taking home the top prize in the Nashville Unsigned music competition. She collaborated with Matt Epp, a fellow Manitoban artist, in the same year. They collaborated to produce their song, The Sound. Additionally, their music was able to take first place in the International Songwriting Competition, the biggest songwriting contest in the world. 
They made history by being the first Canadians to win the competition in its 16-year history by taking first place. Among 16,000 other entries from 137 nations, they were able to stand out. 
On August 24, 2018, Faouzia appeared in the song Battle on David Guetta's studio album "7" as a result of her phenomenal growth and exposure of her ability. Guetta chose Faouzia for his song after praising her in an interview for her excellent vocal range, strong vibrato, and distinctive singing style.
Faouzia's FAMILY, EDUCATION AND CHILDHOOD
Father:      She seems to be secretive about her family background, so, she has not opened up about her father.
Mother:    Similarly, she has not opened up about her mother too.
Sibling:    She has a sister named Samie.
Childhood:    She had the best days of her childhood, as her parents let her do every stuff she was interested in. That gave her nice opportunity to nourish her talent and skills, which has helped her secure professionalism in her interest and consequently turn that interest into a career.
Education:    She is quite introvert regarding her personal background. Thus, her qualifications and educational background are not available.
Faouzia NET WORTH
Sponsorship: Due to her Instagram account's more than 1.3 million followers, advertisers are required to pay a set sum for each post they make. The average follower engagement rate for each of her most recent 15 posts is 18.58%. As a result, the range of her estimated average sponsorship fee is $2,703 to $4,505.
Songs: She has a long history in the music business, as we all know. Additionally, she has been putting out a few of her own singles, which have been incredibly successful. All of her tracks are available for purchase on a variety of websites, including Spotify, Apple Music, the iTunes Store, Amazon Music, and more.
Concert: She has a sizeable fan base that are ready to see her play live. She is one of the most exciting and upcoming talents in the music industry. She has already made a significant amount of money through her performances at several concerts and exhibitions up to this point.
Given that she is still very young and new to her job, the information provided is still insufficient to establish any accurate calculation of her net worth. Fasouzia's net worth is, nevertheless, roughly estimated to be between $600k and $700k.
Faouzia's BOYFRIEND AND RELATIONSHIP 
 She has not yet disclosed her partner or relationship status because she prefers to keep her profession in the spotlight. She also has a quiet demeanor, which has allowed her to keep her romantic relationships private and away from the spotlight. 
 None of her social media accounts contain even a single piece of information concerning her romantic relationships or her accomplice. She was a remarkable lady who could give her personal and professional lives their own space despite her notoriety and spotlight. She also appears to be unassuming when it comes to dating and romance. It won't be long before she discusses the romantic portion of her life. 
Faouzia's HEIGHT, WEIGHT AND BODY MEASUREMENTS
| | |
| --- | --- |
| Height | 5 feet and 7 inches |
| Weight | However, the information regarding her weight remains unknown. |
| Hair | Black |
| Eyes | Dark Brown |
| Body Measurement | The details regarding her body measurements remain unknown. |
| Body Type | She stands at a decent height of 5 feet and 7 inches with a slim and curvy body physique. |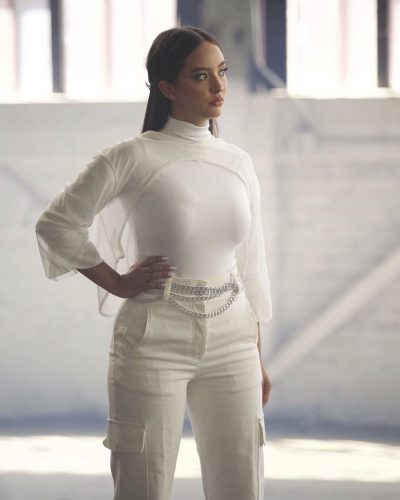 RUMORS AND CONTROVERSY
There are a few rumors floating around about celebrities' relationships and careers. Due to hatred and jealousy, people fabricate stories and attempt to discredit celebrities. However, Faouzia was able to rescue her from unfavorable reports. She has done a good job of keeping her mind off of the detractors' negative energies. She has done an amazing job of avoiding controversies with her positive attitude and hard effort.
Faouzia's SOCIAL MEDIA
| | | |
| --- | --- | --- |
| Platform | Followers (As of November 2019) | Link |
| Facebook | 329k    | Here |
| Twitter | 67k  | Here |
| Instagram | 1.3 million | Here |
| YouTube | 493k   | Here |
Also Read: Izzy.tube