Facts about Jay Mazini
| | |
| --- | --- |
| Date of Birth | May 27, 1995 |
| Age | 27 years old |
| Birthplace | Palestine |
| Zodiac | Gemini |
| Nationality | Palestinian |
| Ethnicity | Unknown |
| Profession | Instagram star and Entrepreneur |
| Height | 5 feet and 7 inches |
| Relationship status | Not revealed yet |
| Net worth | $8 million. (More info Below) |
Jay Mazini is a person who has hustled all the way to the top with his hardworking ethics, financial knowledge and patience. Ever since he was young he was very interested in business and finance. It won't be a surprise to say he started working since he was 14 years of age. By the age of 24, he has converted $400 he had at 14 to $8 million. Due to his insane success, a lot of people are following his footsteps to gain the financial success he gained. Not just that, he is not just the person to brag and show off his cars and assets, he inspires people to never give up in life and hustle no matter what situation they are in. Now let us talk more about him in detail.

BIO AND WIKI
Jay Mazini was born on May 27, 1995, in Palestine. Ever since Jay was a kid, he was passionate and interested in business and finance. At the age of 14, he started making plans by investing $400 he had on thermal sweater and flip-flops. At 15, he started selling the products to the Dominicans up by Webster in any type of weather. At 17, he started selling leather with few young employees. At 19, he started investing in the stock market. He lost and gained in the process of learning and investing wisely in the stock market. By now, he has a clothing store named Mazzini Italy partnering with a rapper named Dave East. Also, he has a financial program named Crytzo to help people invest in their future.
As he grew up, Jay became an Instagram star who earned a lot of fame and attention for inspiring posts being vocal about current social issues that he uploads on his Instagram account.  At the time of writing this article, Jay has already amassed more than 404k on Instagram alone.
Jay Mazini's FAMILY, EDUCATION AND CHILDHOOD
Father:      He has not stated the identification of his dad in any of his social media until now.
Mother:    His mother has been featured in his Instagram posts. But, further information about her name and what she does remains undisclosed.
Sibling:    She has a sister named Malak.
Childhood:    His childhood was very great with a lot of support and attention from his parents. They were always fulfilling everything he needs to pursue what he wants. In simple words, he had experienced a childhood that has certainly played a key role to achieve the success he is gaining right now.
Education:    There is no information about his education and qualifications until now. However, given his achievement, he seems to be well-educated.
Jay Mazini NET WORTH
Jay Mazini has reached all the way to the top with his involvement in different businesses from a very young age. He has a clothing store named Mazini Italy partnering with a rapper named Dave East. Also, he has a financial program named Crytzo to help people invest in their future. Not just that, he has invested a lot of his money in the stock market which has skyrocketed his net worth.  At the moment, Jay Mazini net worth is more than $8 million.

Jay Mazini is Engaged 
 Jay Mazini is a very sensible, talented and humble person. Who wouldn't want him as a life long companion who has inspired so many people in this world? At the moment, he is already engaged and has posted several photos expressing all the love he has for his soon to be wife. Although she has not revealed her face until now, it seems that he respects her choice of not showing herself. Nevertheless, they have been dating for quite a while and are very happy to accept each other as husband and wife. 
I prayed nights for a woman like my soul mate. I deserved her, she deserved me. I saw her, then I said to myself "SHE'S THE ONE". I prayed, I prayed and God just kept throwing me signs. God knew my intentions, he knew I held myself to my highest morals, my character as a man, didn't disobey him, give back to humanity and I didn't commit sins, so he gave me what I deserved. I really love her man, I really love her. Princess, I'm going to take care of you forever. I'm your soldier, soul mate, security and whatever I can do to keep you safe. You're what I always dreamed for. I love you baby, I really do… J & J ♥️ – Jay Manzini
Jay Mazini's HEIGHT, WEIGHT AND BODY MEASUREMENTS
| | |
| --- | --- |
| Height | Jay Mazini stands 5 feet and 7 inches tall. |
| Weight | At the moment, the information about his weight remains unknown. |
| Hair | Black |
| Eyes | Black |
| Body Measurement | However, the detailed statistics showing his body measurements is not known. |
| Body Type | Athletic |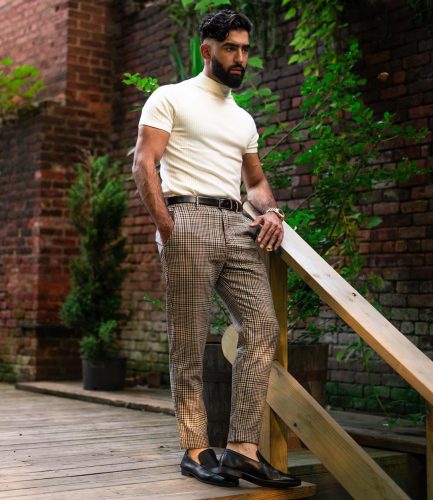 RUMORS AND CONTROVERSY
Some of his haters try to pull him down with false things about him. However, he doesn't let that negativity impede his career. He manages it with positivity and composure. Moreover, he doesn't involve himself in any such circumstances that could create a  negative reputation for him., However, rumors regarding his relationship appear here and there which are not significant and are unconfirmed.
 Jay Mazini's SOCIAL MEDIA
| | | |
| --- | --- | --- |
| Platform | Followers (As of October 2019) | Link |
| Facebook | Not created | Here |
| Twitter | 2.6k   | Here |
| Instagram | 404k   | Here |
| YouTube | Not created | Here |
 ALSO READ: Net Worth of The Ace Family