Facts about Katie Betzing
| | |
| --- | --- |
| Date of Birth | September 10, 1997 |
| Age | 24 years old |
| Birthplace | Michigan, US |
| Zodiac | Virgo |
| Nationality | American |
| Ethnicity | Caucasian |
| Profession | YouTuber,  |
| Height | 5 feet and 8 inches |
| Relationship status | In a relationship |
| Net worth | $2 million (More info Below) |
Katie Betzing has been one of the rising stars in the American YouTube community lately. She has always been consistent and bringing up entertaining videos one after another. Many of them have gone viral which has pushed her influence to millions and millions of people not only in American but, all over the world. She has everything that an entertainer must have; she has a charming personality, she has a good sense of humor, she is extremely gorgeous and the list goes on-and-on. Not just that, her relationship with Josh Brueckner is trending on YouTube at the moment as Josh proposed Katie in front of thousands of people after he won a boxing match. It just went viral all over the Internet. Now, let us know more about this YouTube sensation, Katie Betzing.

BIO AND WIKI
Katie Betzing is a 24 year old YouTuber, who was born on September 10, 1997. in Michigan, US. Ever since Katie was a kid, she was always interested and passionate about modeling, fashion, and makeup. As Katie grew up, she accumulated a lot of fame and recognition for her makeup tutorial and tricks, beauty tips, product reviews and travel vlogs which she uploads in her channel, Katie Betzing. 
Right now, Katie has earned more than 1.28 million subscribers. Not just that, her channel has attained a total of more than 91 million views from her videos. Other than YouTube, she has lots of fan followings on her various social media platforms. Also, she has more than 552k  followers on her Instagram alone at the time of writing this article. After the success of her first YouTube channel, she started another YouTube channel, Jatie Vlogs, with her boyfriend, Josh Brueckner, on April 18, 2016.
And, once again, she was able to make this channel even more popular than her own channel. This channel mainly focused on couple prank wars, challenges, and vlogs which were more entertaining and even surpassed the subscribers she had on her own channel. As of now, the channel has already more than 1.41 million subscribers with more than 224 million views on their videos.

Not just that, she also has established two brands of her own until now. She is the owner of Jatie Beauty which sells makeup and beauty products. Similarly, she is the co-owner of J80Fit which is about clothes and apparel. 
Katie Betzing's FAMILY, EDUCATION AND CHILDHOOD
Father:      Her father's name is Dough Betzing. By profession, he is a history teacher. He already has appeared on her vlogs where he seems to be a very cool and funny dad sharing a close bond with Katie.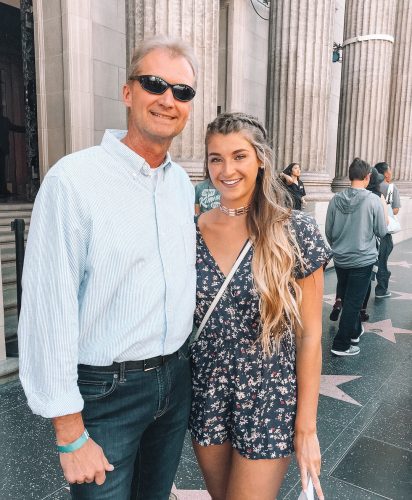 Mother:    Her mother's name is Karen Betzing. She is a soccer coach by profession. She has been featured on many of her YouTube videos until now.
Sibling:    She has one older sister, Elizabeth "Biz" Reagan Betzing. Also, she has two siblings who were adopted by her parents: Jasmine and Andrew.
Childhood:    Her childhood was very great with a lot of support and attention from her parents. They were always fulfilling everything she needs to pursue what she wants. In simple words, she had experienced a childhood that has certainly played a key role to achieve the success she is gaining right now.
Education:    Katie Betzing completed her high school education with a GPA of 3.3 from Romeo High School. She showed her spark ever since she was young as she was a 3-time class president during her days there. After that, she enrolled in a community college in Michigan where she studied for a year and a half. Later she joined the University of Michigan.
Katie Betzing's Love Story
We all know about the perfect and beautiful relationship she has with Josh Brueckner. Josh is an American MMA fighter who entered the YouTube alongside Katie.

Before she was with Josh, she was in a relationship with a man named Logan. Logan was her first boyfriend as her parents did not allow her to date anyone until she turned 16. They started dating in early 2014. However, she posted a video titled "We Broke Up!" on August 29, 2015. She felt that the relationship with him was not working out and she felt much happier after the break-up.

After her failed relationship, she stayed single until she met Josh. She discovered her love for boxing in 2018. She wanted a good trainer who could train her. And, there enters Josh Brueckner in her life. Josh became the personal trainer for Katie. He instantly became her crush as he was so handsome and charming. In her videos, she said that she instantly fell in love with this guy and it was the same way around.
They instantly clicked with each other as if they knew each other for a long time. They really got along well with each other and voila, they started their relationship on July 4, 2018. Since then, he appeared on her personal channel doing various pranks and challenges. Katie changed her secondary channel's name to Jatie Vlogs which was previously Katie Betzing Vlogs.

On November 10, 2019, Josh proposed Katie in front of thousands of spectators after he won his boxing match. She was aw-struck and couldn't contain her tears with joy and the answer was definitely a YES. They are planning to get married soon.  
What is Katie Betzing's NET WORTH and EARNINGS??
Sponsorship: As Katie has more than 552k followers on her Instagram account, advertisers pay a certain amount for the post they make. 
Considering Katie's latest 15 posts, the average engagement rate of followers on each of her post is 27.64%. Thus, the average estimate of the amount she charges for sponsorship is between $1,656 – $2,760.
Merchandise: As a popular YouTuber, many of Katie fans and viewers have asked for her merchandise. Fortunately, Katie has provided her own merchandise which is sold through, fanjoy.co/collections/jatie. 
At the moment, she mostly sells custom-made T-shirts, hoodies and other accessories with various stickers and prints. The prices of the merchandise range from $20 – $50 which is very affordable and gets 'sold out' time and again.
YouTube: YouTube has been a platform where people can earn money through videos they upload.. 
So is the case for Katie Betzing, as most of her earnings and incomes come from YouTube. The subscribers and viewers count of her has risen significantly over the years. 
Currently, she has more than 1.28 million subscribers on her channel with an average of 1,114,382 views daily.

According to socialblade.com, from her YouTube channel, Katie earns an estimated $100.3K – $1.6M in a year calculating the daily views and growth of subscribers.
Katie Betzing Channel: As mentioned above, she has two channels and one of them is Katie Betzing. It was her main channel before she started Jatie Vlogs. She uploads videos in this once in a while but, not as consistent in Jatie Vlogs. Nevertheless, she earns an estimated $3.8K – $60.9K in a year from this channel, according to socialblade.com.
Net Worth: Thus, evaluating all her income streams, explained above, over the years, and calculating it, Katie Betzing's net worth is estimated to be around $2 million.
Katie Betzing's HEIGHT, WEIGHT AND BODY MEASUREMENTS
| | |
| --- | --- |
| Height | Katie Betzing stands 5 feet and 8 inches tall. |
| Weight | She weighs 53 kg. |
| Hair | Dark Brown |
| Eyes | Hazel |
| Body Type | Slim and curvy body figure |
| Body Measurement | Unfortunately, the detailed statistics regarding her body measurements remain unknown. |
Katie Betzing's CAREER
Katie Betzing started her YouTube channel on December 30, 2012, and uploaded her first video titled "My First YouTube Video!." Since then she has been uploading various makeup tutorials and tricks, beauty tips, product reviews, and travel vlogs. 
Till now, out of all her videos, "Trying The Victoria's Secret Model Diet & Workouts For a Week" is the most popular video in her channel. It has racked more than 6.8 million views as of now.
At the moment, her channel is growing day-by-day with over 1.28 million following her video content. Also, she is consistent in uploading videos as she uploads videos once or twice a week. 
Is Katie Betzing involved in any RUMORS AND CONTROVERSY?
It is obvious that few bad things about celebrities like her regarding their relationship and career spread here and there. Her haters can make tales and try to bring her down due to resentment and jealousy. But, she has never paid much attention to it. Rather she focuses on positivity and love, her fans and admirers give to her. She has done a praiseworthy job to keep her away from controversies with positivity and sensibility.
Katie Betzing's SOCIAL MEDIA
| | | |
| --- | --- | --- |
| Platform | Followers (As of December 2019) | Link |
| Facebook | 1.41 million | Here |
| Twitter | 44k   | Here |
| Instagram | 552k  | Here |
| YouTube | 1.28 million   | Here |