Facts about Mike Majlak
| | |
| --- | --- |
| Date of Birth | January 13, 1985 |
| Age | 38 years old |
| Birthplace | Milford, Connecticut, US |
| Zodiac | Capricorn |
| Nationality | American |
| Ethnicity | Unknown |
| Profession | Marketing Manager and Podcaster |
| Height | 6 feet |
| Relationship status | Not revealed yet |
| Net worth | $1 million – $1.5 million. (More info Below) |
Logan Paul's podcast Impaulsive has surpassed 1 million subscribers in just one month thanks to Mike Majlak's participation. His inquiries and conversations with the visitors are insightful and to the point. As a result of his presence in the show, he gained a lot of popularity. We will now address the inquiries regarding his prior employment. Go on reading!
BIO AND WIKI
Mike Majlak was born on January 13, 1985. He was born and spent his childhood in Milford, Connecticut, US. As a kid, he was always active and keen on interacting with others. He always made sure that the people around him are always smiling. This positive and outgoing nature has been his big assets in his career.

He was actively involved in social media promotion working for various companies (More in career section below.) . However, his career-defining moment came when he partnered with world-famous, Logan Paul. He gained a lot of appreciation and admiration for the success of the podcast, Impaulsive Podcast.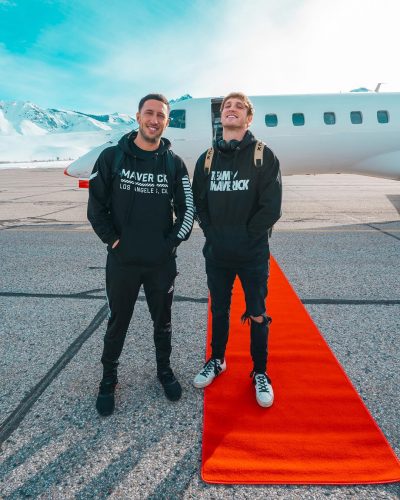 DRUG ADDICTION
Additionally, Mike has been transparent about his drug use. He was an oxycontin, cocaine, and other drug addict. However, he changed his life after failing to care for his grandfather as a result of this addiction. His book is dedicated to those who have lost their way and caved in to addiction, and today, in addition to being sober, he is also raising awareness about drugs.
Mike Majlak's FAMILY, EDUCATION AND CHILDHOOD
Father:      He has not revealed the identity of his father until now.
Mother:    He has not revealed the identity of his mother until now.
Sibling:    He has two sisters named Abby and Jill.
Childhood:    There is very little info about his childhood at the moment. However, he was into acting since a very young age.
Education:    Not much is known about his earlier education and where he completed his high school education. The only information that we have about his education is that he enrolled in Fordham University but, he dropped out later on.
Mike Majlak's CAREER AND AWARDS
Mike Majlak has attained a lot of success in his career solely based on his personality and social interaction skills without any need of an educational degree. He started his career working with the social media promotions named Nice Guy Promotions The Essential Foodie.

At the same time, he worked as a writer and blogger for The Essential Foodie writing various articles related to food, lifestyle, and health. Not only that, he worked as an event photographer as a part-time job. Also, he is working as a marketing manager and partnership for the company Lovesac. It is the company which supplies couch products.

The encounter with Logan Paul was the turning point in his career. He and Logan partnered up to establish their own podcast, the Impaulsive Podcast, on October 22, 2018, because they had similar personalities and shared the same goals. They reached over 1 million subscribers on YouTube in just one month. He immediately attracted a lot of attention for his arrival on the show and is currently its most important cast member.
In his most recent book, "The Fifth Vital," Mike shares his own experiences with drug addiction and how he overcame it. The book has been highly appreciated by readers.
Mike Majlak NET WORTH
Advertisers pay a certain sum for each post they make on his Instagram account, which has more than 205k followers. Based on his 15 most recent posts, each of which received an average engagement rate of 18.50% from followers. Therefore, the range of his estimated average sponsorship fee is $3,448.5 to $5,747.5.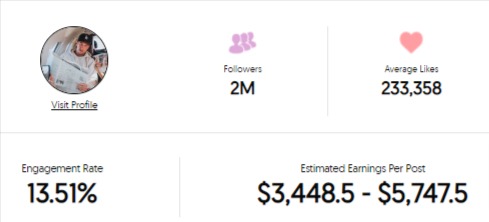 Impaulsive Podcast: Due to the success and popularity of the show, he makes a significant amount of money from it as a crucial member.
Lovesac: He is currently employed by the business as its marketing manager. He is in charge of selling the company's products, which include cozy couches. However, it is uncertain how much money he brings in from working for the corporation. Nevertheless, he makes a sizable sum of money from the company's success.
As a result, after accounting for all of his sources of income, Mike Majlak's estimated net worth is between $1 million and $1.5 million.

Mike Majlak's GIRLFRIEND AND RELATIONSHIP
Mike's recent relationship took over the internet when he confirmed his relationship with Lana Rhoades.  The on-again off-again relationship finally came to an end in February 2021. Both the parties have clarified that they are no longer together. Lana reportedly broke up with Mike because of his closeness to other girls and his cheating on her.
Nobody in the public is aware of Mike's current romantic situation. He pictures with many models on his Instagram feed, but he hasn't publicly admitted to dating anyone besides Lana.
Mike Majlak's HEIGHT, WEIGHT AND BODY MEASUREMENTS
| | |
| --- | --- |
| Height | 6 feet |
| Weight | However, the information regarding his weight remains unknown. |
| Hair | Brown |
| Eyes | Hazel |
| Body Measurement | The details regarding her body measurements remain unknown. |
| Body Type | Tall, athletic and muscular |
RUMORS AND CONTROVERSY
Scandalous Controversies Regarding Cheating
Instagram model Ava Louise was the target of a tweet from Majlak. The allegations that Majlak had cheated on Lana Rhoades became viral on the internet on February 9, 2020, when a lady criticized another woman, who remained nameless, for "having nothing better to do with your life than sit outside a club for hours." After appearing on an episode of Dr. Phil, the "unnamed woman" turned out to be the Instagram model Ava Louise, who shot to fame as a result of her appearance. Following her response to Lana's tweet, which read, "Imagine getting cheated on with a chick from Dr. Phil LOL," Louise provided screenshots of her and Mike acting as like they are making plans for the evening.
On February 11, Mike appeared on an edition of Logan Paul's ImPaulsive podcast to defend himself after Lana called him out in a tweet that has now gone viral. He argued that since he and Lana never formally defined their relationship, the scenario wasn't literally "cheating." The tweet became popular after being criticized by Lana in it.
Majlak continued to describe what had happened, saying that Ava had been waiting for him outside two different clubs to get his attention. He even called the Dr. Phil star a "dumpster gremlin," saying she had messaged him and demanded to have a personal relationship with him. Then he confessed, admitting that later that night in his hotel room, he had indeed cheated on Lana with Louise. Despite the fact that their relationship was not evident at the time, he expressed regret about the event. "She gets an Uber, and she walks out, and I sit on my bed, and I go," he added, placing his head in his hands. "You are an absolute moron," she said.
Finally, Majlak apologized to Lana and Ava Louise, informing them that the "Dr. Phil chick" "needs real help" after it was revealed that her "whole mission" is to "expose" other people. He also expressed his regret to them both.
Join Logan Paul in a battle.
On the cover of Vogue magazine in the year, 2020 was a picture of the well-known singer Harry Styles dressed up in a dress. The singer was defended by Logan Paul, who also backed the artist's decision. Despite this, Majlak was unequivocally of the opinion that Logan was wrong. Majlak made an appearance in the year 2021 on the podcast show Mom's Basement, which was hosted by Keemstar. A number of unsettling remarks concerning Logan Paul were made by Mike on the broadcast. During the course of the episode, he stated that the only reason Logan supported Harry Styles was so that his podcast show might receive more attention and clicks. While he was discussing this topic with others, he even referred to Logan with a derogatory epithet.
Logan took issue with what he stated, and the latter promptly released a statement in which he denounced Mike for the awful things that he had spoken. After a while, Mike Majlak emailed Logan Paul a message of apology.
Mike Majlak's SOCIAL MEDIA
Also Read: Nice Peter