Quick Facts about Paige Layle
| | |
| --- | --- |
| Date of Birth | August 2, 2000 |
| Age | 23 years old |
| Birthplace | Kawartha Lakes, Canada |
| Zodiac | Leo |
| Nationality | Canadian |
| Ethnicity | White |
| Profession | TikTok star |
| Height | 5 feet 5 inches (1.65 m) |
| Relationship status | Single |
| Net worth | $200,000 - $300,000 (More info Below) |
TikTok has taken the world by storm, and Paige Layle has taken the TikTok world by storm. Paige is one of the viral and rising stars where her fame has skyrocketed to 2.4 million. Don't mistake Paige as just another TikTok star, Paige has been popping videos showcasing her creativity, humor, and personality. No wonder Paige is producing viral videos one after another.
In this article, we have gathered all the information there is to know about Paige Layle. We have covered Paige Layle's birthdate, family, education, romantic life, and net worth. So, stick to the end.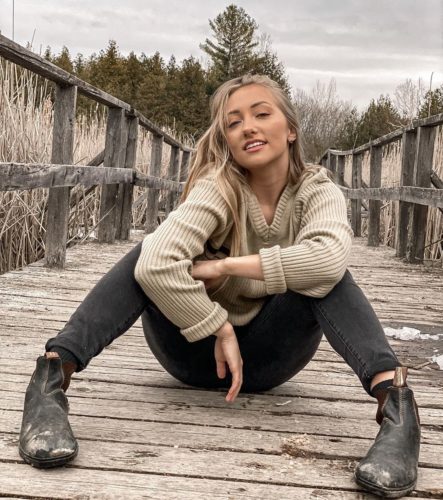 What is Paige Layle known for?
Paige Layle is a 23 years old Canadian TikTok star. Paige rose into fame and limelight for her lip-syncs to trending songs and voice-over, About autism in girls. which she uploads on her TikTok account, paigelayle. 
Moreover, Paige started out on TikTok just for fun and as a part of a trend, but, little did Paige know,  that she would have more than 2.4 million people following Paige on TikTok alone. Not just that, Paige has extended her social reach on Instagram with more than 130,000 followers as of now.
Paige living with autism
Paige is a young woman who is living with autism. She spoke about living with autism because her case is atypical of what people usually stereotype with this disorder. She is being praised after she went viral on TikTok for explaining the disorder in women, with hopes that people will stop perpetuating an unrealistic stereotype.

According to BuzzFeed, Paige Layle recently posted a four-part video series on her social platform, explaining how autism affects females after she became frustrated that so many people assumed and accused that she didn't have the disorder.

The eyelash technician from Ontario, Canada explained that those assumptions came because of the way she presented herself and interacted with others, which was unusual of what people typically associate with autism. She wants to show the world that every mental illness is diverse. We cannot stereotype and put them all under one same roof.

It was until Layle stumbled upon a TikTok video that made fun of people suffering from autism and she decided to take action for this by making educational videos.

Early life and Family
Paige Layle was born on August 2, 2000, in Kawartha Lakes, Canada. Paige is of White ethnicity. Her mother's name is Tracy.
Ever since Paige was a kid, she was passionate about makeup and fashion. She loves doing photoshoots, modeling, and styling up herself.
Paige Layle's childhood was really great amidst a lot of care and love from her parents. They were continuously meeting everything Paige requires to pursue what she wants. In simple terms, Paige had undergone a childhood that has unquestionably played a pivotal role to achieve the progress Paige is getting momentarily.
Paige Layle has not disclosed much about her education and qualifications. Paige has completed her high school education but the details regarding where Paige studied remain unknown.
Paige Layle's BOYFRIEND, AND RELATIONSHIP 
Paige Layle is a Canadian autism awareness activist and TikToker. Her fans are very much interested in the activities and awareness she is doing to make the world a happy place. Her fans are also keen to know whether or not this young activist has someone special in her life. As per the research we did, we did not find any information that declares that Paige is dating someone. She is single and is enjoying the life she has created for herself. Her Instagram and other social handles are all clean. They consist of pictures of herself, her work, and her awareness activities. It is pretty evident that Layle is more into her career as she wants to break the misconception of people that typecast autism and believe everyone has the same type of effects.  
Paige Layle's HEIGHT, WEIGHT, AND BODY MEASUREMENTS
Paige Layle stands at a height of 5 feet 5 inches (1.65 m). However, the information about Paige Layle's weight remains unknown. Paige looks very attractive with beautiful Blue eyes and Blonde hair. Also, she has a slim and lean body physique. However, the detailed statistics showing Paige's body measurements are not known.
What is Paige Layle's NET WORTH and EARNINGS?
TikTok Sponsorship: As Paige has more than 2.4 million followers on her TikTok account, advertisers pay a certain amount for the post they make. 
Considering Paige's latest 15 posts, the average engagement rate of followers on each of her post is 8.20%. Thus, the average estimate of the amount she earns from sponsorship is between $1,540 – $2,300.
Instagram Sponsorship: As Paige also has 130,000 on her Instagram account, she would also make decent money from sponsorships. Considering Paige's latest 15 posts from Instagram, the average estimate of the amount she earns from sponsorship is between $396.75 – $661.25.
Net worth: Thus, evaluating all her income streams, explained above, over the years, and calculating it, Paige Layle's net worth is estimated to be around $200,000 – $300,000.
More Facts about Paige Layle
Paige Layle celebrates her birthday on

August 2, 2000

. Thus, Paige Layle is 20 years old as of May 2021.

Paige Layle zodiac sign is Leo.

She also works as a lash technician. 
RUMORS AND CONTROVERSY
It is apparent that several bad information about figures like Paige Layle involving them spread here and there. Paige haters can make stories and attempt to take her down due to jealousy and envy. Yet, Paige has nevermore given much thought to it. Preferably Paige concentrates on positivity and love, Paige's fans and followers give. Paige has done excellent work to keep herself distant from controversies until this day.
Q & A
Q: What is Paige Layle's birthdate?
A: Paige Layle was born on August 2, 2000.
Q: What is Paige Layle's age?
A: Paige Layle is 20 years old as of March 2021.
Q: What is Paige Layle's height?
A: Paige Layle's height is 5 feet 5 inches (1.65 m).
Q: Who is Paige Layle's Boyfriend?
A: Paige Layle is Single at the moment.
Q: What is Paige Layle's Net Worth?
A: Paige Layle's net worth is $200,000 – $300,000. Also Read: Vladislava_661