Facts about Sophia Diamond
| | |
| --- | --- |
| Date of Birth | August 21, 2001 |
| Age | 20 years old |
| Birthplace | Russia |
| Zodiac | Virgo |
| Nationality | Russian, Israeli, Canadian |
| Ethnicity | Russian |
| Profession | Social Media Star |
| Height | 5 feet and 7 inches |
| Relationship status | Not revealed yet |
| Net worth | $200,000 – $300,000 (More info Below) |
There is no denying the fact that Sophia Diamond is one of the prettiest social media stars. She is really no less than an angel. It is hard not to notice that big luscious blue eyes and that seemingly perfect body physique. That is the reason why her millions of people are following her be it on Instagram or TikTok. She really is one of the shining stars in the world of social media. Now, let us know more about this gorgeous social media sensation, Sophia Diamond.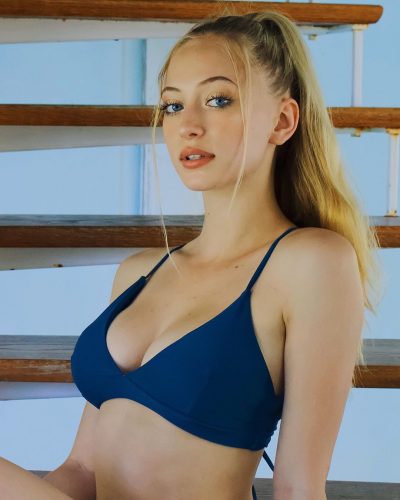 BIO AND WIKI
Sophia Diamond is a 20 years old Social Media Star, who was born on August 21, 2001. in Russia. Ever since Sophia was a kid, she was passionate and interested in gymnastics and fashion. As she grew up, Sophia became an Instagram star who earned a lot of fame and attention for hot and beautiful pictures and videos which she uploads on her Instagram account.  At the time of writing this article, Sophia has already amassed more than 1.2 million on Instagram alone.
Not just that, she has expanded her reach on TikTok as well and inevitably, she flourished on TikTok just like she did on Instagram. Surprisingly, her followers on TikTok has even surpassed her Instagram with more than 3.2 million followers.
FACTS ABOUT SOPHIA DIAMOND
1. She was born in Russia, grew up in Israel and currently residing in Canada. She was born in Russia and is fully Russian. When she was eight months old, she moved to Israel with her mother and sister. She lived there for 11 years (till 11 years) and moved to Canada.
2. She speaks three languages. Yes, given her involvement in different cultures and countries, she is able to speak three different languages fluently.  They are:
Russian
Hebrew: It is a Northwest Semitic language native to Israel. (If you are curious)
English
3. Meaning behind her name? In Russian, Dimentbarg is translated as Diamond. So, her mother kept that as her last name.
4. Her favorite music genre is RnB. She is a huge fan of "Weeknd" and most of her dance videos are also influenced by this genre.
5. She was bullied and she still is bullied. In her first YouTube video, she said that she was bullied in her childhood and this is much more in her high school due to her fame and popularity. However, she is doing very well to ignore such things.
She said, "Most people in school treat me like garbage for no reason. And I just ignore these people."
6. Where she buys her fashion outfits and dresses? She mostly gets her clothing from H&M, Garage and Urban Planet.

Sophia Diamond's BOYFRIEND, AND RELATIONSHIP 
As one of the prettiest girls in the social media world, it is obvious that people would want to know about her romantic life. So, uncovering her romantic life, she used to date a guy named Kian Salehi. She featured him on her social media and they really looked happy with each other. However, as both of them were young, their relationship could not last as well.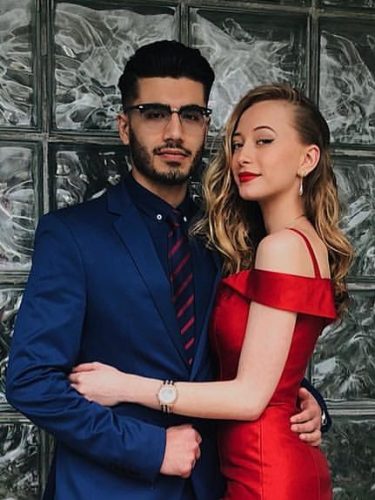 In December 2018, she confirmed that she had broken up with Kian via Instagram live stream. She mentioned that the relationship was not working out and they broke up on good terms. Also, she handled the break-up quite well and with maturity.

Since then, she has kept her private life just up to her. She was not comfortable to make her life an open book. There is nothing that we can see about her relationship on any of her social media profiles. It may be that she wants to stay single and focus on her career at the moment.  
Sophia Diamond's HEIGHT, WEIGHT AND BODY MEASUREMENTS
| | |
| --- | --- |
| Height | Sophia Diamond stands 5 feet and 7 inches tall. |
| Weight | At the moment, the information about her weight remains unknown. |
| Hair | Blonde |
| Eyes | Blue |
| Body Measurement | However, the detailed statistics showing her body measurements is not known. |
| Body Type | Slim and curvy body figure |
What is Sophia Diamond's NET WORTH and EARNINGS?
Instagram Sponsorship: As Sophia has more than 1.2 million followers on her Instagram account, advertisers pay a certain amount for the post they make. 
Considering Sophia's latest 15 posts, the average engagement rate of followers on each of her posts is 6.88%. Thus, the average estimate of the amount she charges for sponsorship is between $2,494.5 – $4,157.5.
TikTok Sponsorship: Similar to Instagram, she has more than 3.2 million followers on TikTok. And, Sophia Diamond earns an estimated $1,948 – $3,247 per post from her TikTok.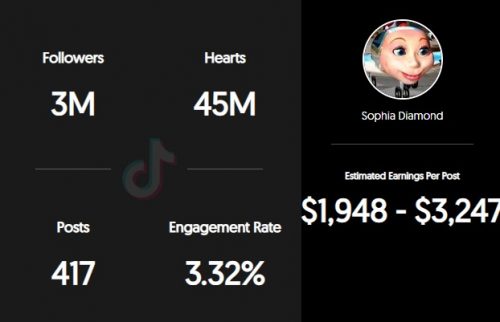 Net worth: Thus, evaluating all her income streams, explained above, over the years, and calculating it, Sophia Diamond's net worth is estimated to be around $200,000 – $300,000.
Sophia Diamond's FAMILY, EDUCATION AND CHILDHOOD
Father:      She has not stated the identification of her dad in any of her social media until now.
Mother:    Her mother has been featured on her Instagram posts. But, further information about her name and what she does remains undisclosed.
Sibling:    She has a sister.
Childhood:    Her childhood was really great amidst a lot of care and love from her parents. They were continuously meeting everything she requires to pursue what she wants. In simple terms, she had undergone a childhood that has unquestionably played a pivotal role to achieve the progress she is getting momentarily.
Education:    She has not disclosed much about her education and qualifications. She has completed her high school education but the details regarding where she studied remain unknown.
RUMORS AND CONTROVERSY
Some of her haters try to drag him down with dishonest things about her. Nonetheless, she doesn't let that negativity deter her career. He endures it with positivity and patience. Besides, she doesn't commit herself to any such incidents that could create a negative name for her., Nonetheless, news regarding her relationship arises here and there which are not notable and are unconfirmed.
FACTS IN SUMMARY
Q: What is Sophia Diamond's birthdate?
A: Sophia Diamond was born on August 21, 2001.
Q: What is Sophia Diamond's age?
A: Sophia Diamond is 20 years old.
Q: What is Sophia Diamond's height?
A: Sophia Diamond's height is 5 feet and 7 inches.
Q: Who is Sophia Diamond's Boyfriend?
A: Sophia Diamond is single at the moment.
Q: What is Sophia Diamond's Net Worth?
A: Sophia Diamond's net worth is $200,000 – $300,000.
 Sophia Diamond's SOCIAL MEDIA