Facts about Josh Richards
| | |
| --- | --- |
| Date of Birth | January 31, 2002 |
| Age | 21 years old |
| Birthplace | Canada |
| Zodiac | Aquarius |
| Nationality | Canadian |
| Ethnicity | Caucasian |
| Profession | Movie actor and Social Media Star |
| Net worth | $350,000-$475,000. (More info Below) |
Josh Richard came into limelight from a young age after his brilliant acting performance in several movies in Hollywood. He made his presence felt known to the entire nation and his popularity got bigger and bigger. Even though he has made a name for himself as an actor, he is also a social media star who has a  fan base that won't stop growing. It is all thanks to his charming and attractive appearance that has won over the hearts of many girls of his age. Not just that, many of his TikTok videos have gone viral growing his reach to millions and millions of people all over the world. Below we have covered everything encompassing his age, bio, girlfriend, net worth, etc. that you ought to know about this social media sensation, Josh Richards.
BEST KNOWN FOR….
Josh Richards was born on January 31, 2002 (21 years old) in Ontario, Canada. Ever since Josh was young, he was very passionate about acting. He began taking acting classes from a young age to hone his acting skills. Besides acting, he was also interested in sports. He used to play ice hockey as well as soccer. But, his main goal was always to be an actor. In 2018, all the hard work paid off as he landed big roles in movies such as  Brother's Keeper and Summertime Dropouts.
It was this moment when his career took a big turn and his popularity just kept growing. At the same time, he also started posting lip-sync and funny videos on TikTok just for fun. But, little did he know, he will become one of the famous people on the entire TikTok platform. At the time of writing this article, Josh Richards has already earned more than a whopping 12.3 million followers on TikTok. Moreover, he is getting a lot of hype for his potential in the Hollywood industries where offers are piling up for him.

Also, it won't be a surprise for a person with his caliber is an aspiring model who has already modeled for various brands which can be seen on his Instagram posts which has more than 3 million followers at the time of writing.
SWAY HOUSE
As we all know, Josh is not alone in this journey of sudden TikTok fame. There are few young boys like him who have achieved popularity through TikTok. And, the good thing is, these viral sensations have collaborated together to create a group called 'SWAY HOUSE.'  It was formed in late 2019 by TalentX Entertainment. The group includes Anthony Reeves, Jaden Hossler, Griffin Johnson, Bryce Hall, and Kio Cyr. They are literally everywhere be it on TikTok or Instagram. The group has earned massive clout and popularity at the moment and Anthony Reeves lies at the heart of the group. The one that shines the brightest.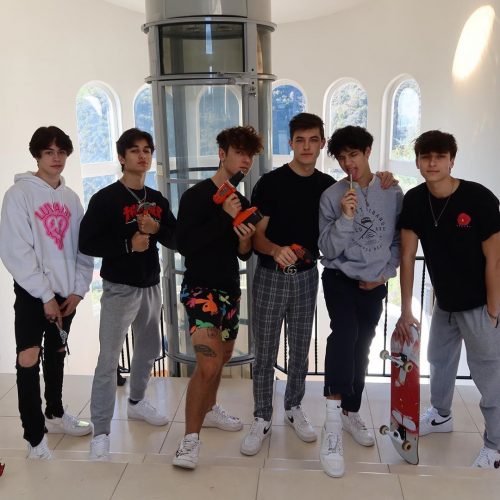 Josh Richards's NET WORTH
Instagram sponsorship: Companies pay a particular amount for each post they publish on his account because it has more than 3 million followers. The average follower engagement rate across his 15 most recent posts is 25.22%. His estimated average sponsorship cost therefore ranges from $6,032.25 to $10,053.75.
TikTok:  Considering his latest 15 TikTok posts, the average engagement rate of followers on each of his posts is 2.70%. Thus, the estimate of Josh Richards'sTikTok earnings is between $7,396 – $12,327.
Because he is a well-known social media influencer, his product is in high demand. Josh Richards also started selling his own goods on his own website, joshrichardsofficial.com, in response to feedback from his fans. For $15 and $5, respectively, he is only presently selling an autographed post and a T-shirt with a distinctive emblem.
sponsorship: His Instagram highlight story features a cooperation with and sponsorship of the young business Armo gear. He has also completed a lot of sponsorship deals in the past. Through this endorsement deal, he earns a sizable profit, boosting his overall wealth. However, the agreement only has an impact on him and his firm.
Net worth:  So, evaluating all the income streams of his, Josh Richards has a net worth of $350,000-$475,000.
Josh Richards's GIRLFRIEND, Nessa Barrett
Josh Richards is without a doubt one of the most well-liked teenagers in the nation. The fact that people would want to know if Josh Richards is single or in a relationship should not be a surprise.
It is bad news for the ladies that Josh Richards is in a relationship at the moment. He started dating a fellow social media star named Nessa Barrett since early 2020. There was always a clear sign that sparked a rumor that they were in a relationship because of their online chemistry. They tried their best to keep their relationship a secret but, the truth has to come out someday. On January 26, 2020, Josh Richards put an end to that rumor as he posted a picture on his Instagram with a caption, "Mine."
Although several girls were jealous, the majority of his supporters were ecstatic for him and Nessa. They are "couple goals" because they make the perfect couple. They routinely appear on one other's social media accounts and are quite in love. Only while holding hands are Josh and Nessa having the happiest days of their lives.
Josh Richards's HEIGHT, WEIGHT AND BODY MEASUREMENTS
| | |
| --- | --- |
| Height | 5 feet and 11 inches |
| Weight | No information available at the moment |
| Hair | Brown |
| Eyes | Blue |
| Body Measurement | Josh has a slim yet athletic body figure which is absolutely perfect. His waist is 29.5 inches, the neck is 14 inches, the sleeve is 33.5 inches and shoe size is 9.5. |
Josh Richards's FAMILY, EDUCATION AND CHILDHOOD
Father:      He has not revealed the identity of his father until now.
Mother:    He has not revealed the identity of his mother until now.
Sibling:    He has a younger brother who has already been featured on his social media posts.
Childhood:    He had a childhood in a very caring and loving environment. His parents were really supportive and attentive about his needs. In simple words, he got a childhood that surely made him a talented and successful person he is right now.
Education:    Given his age, he still must be studying in a high school. However, Josh has not revealed where and what he is studying until now.
Josh Richards's CAREER AND AWARDS
On his Joshrichardzz TikTok account, Josh Richards posted a lot of amusing and lip-syncing videos to start his career. His charming appearance helped him to win the hearts of many young females. He also displayed his excellent acting abilities. In a short period of time, he was able to amass a sizable following; at now, he has more than 1.8 million.

His acting talent and abilities were noticed as soon as he had the offer to appear in movies like Brother's Keeper and Summertime Dropouts, both of which were released in 2018. He got a lot of reputation and visibility as a result of his important and substantial film part. At such a young age, he already has a successful and promising career, and various producers are already anxiously awaiting his sign.
He hasn't yet been honored in any way. However, he will surely receive some big awards in the near future as a result of the advancements he is making in his work.
RUMORS AND CONTROVERSY
He hasn't yet taken involved in any controversy or adverse rumors that could damage his career. With admirable skill, he has avoided anything that might lead to rumors and arguments. Additionally, he doesn't seem eager to partake in these actions in order to get notoriety. But occasionally, unsupported and unconfirmed rumors about his connection surface.
Josh Richards's SOCIAL MEDIA
Also Read: Marco Hall